Best Laptop for a digital marketer
Hello today I'm going to review the best Laptops for a digital marketing specialist who wants to use web browsers (most of the times Google Chrome) as the main the tool to access all applications / web based tools for analyzing and reviewing marketing tasks. Usually in this case we don't need software like Adobe Premiere, Adobe after effect, AutoCAD or any GPU or CPU intensive applications, mostly it is web base applications apps like Figma on the Google Ads, Google Analytics or similar platforms and many more that web based applications which will be used by a marketer.
Checking internet shows that if you want to purchase a laptop and your main usage is a browser like Chrome or Safari Firefox or Brave you need to have a good score on Speedometer 2.0 as a benchmark .
Living in Toronto, Canada, a good place to check all types of laptops for the high Benchmark score on speedometer is Best Buy. I went in and checked over 20 laptops for the best score the only factor is high number In these test from speedometer.
So I decided to go after laptops between $1000 maybe up to $2,500, most of the laptops came in 16 GB of RAMs DDR4, a few of them had DDR5 some laptops were in 5th or 7th generation a few of the were AMD so let's see which home perform better for our test for web based daily tasks.
All right so we come to the place 2 review end the HP laptops. the first laptop is a Spectre x360 HP 6 inch with CPU Intel EVO i7 1260p – 2 in 1 laptop it is is $2,199 this laptop has the one of the newest CPUs 1260p with 12 cores DDR4 resulted in the score of 281 however if you check the EVO Core i5 1235U you touch screen laptop we did almost $400 less than the other one you get the same score that spec of this laptop is qualified 1235 U CPU you just seen Ram 16 GB of RAM ddr4 so what we learn here is if you pay more for the new CPU core i7 1262 you don't get as much as you pay for the vet paste benchmark end of
next row we have 12700 HP gaming laptop cost $1,800, this one has the strongest CPU for corei7 in this price range however the ram was ddr5 not to mention again it was 16 GB Of DDR4 ram. right of bat you get higher score did the same price, now talking the laptop on the right which is why to 16GB RAM Corei5 12500 H gaming laptop I'm so surprised to see a higher score because it is core i5 12500 H processor read 16 of DDR5 but I'm so surprised to see The Benchmark is278 on speedometers Point 2.0.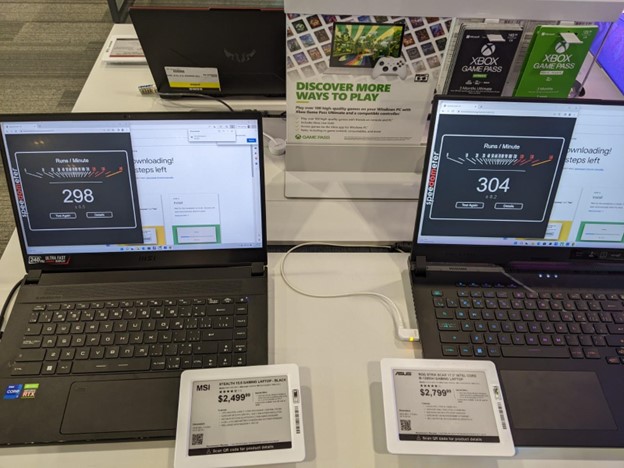 Now we come to the favorite comparison of two new great performing laptops on the left we do have MSI Stealth 15 inch gaming laptop this 12 gen core i7 1200 processor with 16GB of RAM DDR5 it comes with a very powerful graphic card Nvidia GeForce RTX 3060 it results in almost 300 score in the speedometer2, however on the right you do see the highest score ever captured by Intel it is core I-9 12900 gauge CPU 16GB of RAM DDR5 and it results scores over 300 to be exact 304 my own experience downloading Chrome installing Chrome and they're running The Benchmark it was smooth and really fast so I do see in installation also I see that bass performing CPU
not a very impressive the score from ASUS Vivobook Pro 15 inch Ryzen 7 5800 HP laptop it came in 16 GB of RAM DDR4 for the price of $1,400 the score was 229 which is not really impressive
The normal score the Dell inspire and 16 inch core i7 1260p touchscreen laptop the price of $1,600 it uses the one of them to your CPU core i7 1260p 16 GB of RAM DDR4 the price comparing to the score is not really impressive
The next one is Dell Inspiron 16 inch price of $2,000 it comes with Intel Core i7 1260p with 12 cores, with 16GB of DDR4, the score of 241 is not impressive at all . On the other hand, comparing it to the Dell with $200 less which comes with a corei7 12700 HP CPU and with 16 GB of RAM DDR5 this score is unbelievable comparing to HP, ASUS and MSI, and you're paying reasonable cost.
Another interesting laptop from Dell which is G 15 core i7 12700 HP gaming laptop the price is $1,900. It comes with corei7 12700 processor and uses 16 GB of rams DDR5 the score impressive, the cost $1,900 reasonable.
This is another Dell laptop I don't know the price but it is XPS 17 9710 model it comes before I 7 18800 h with 16 GB of RAM disk or is not impressive whatever the price it has it doesn't matter because it is older version of the other laptops
this is the first Lenovo laptop that we checked on this Bestbuy in Richmond Hill, this comes with corei7 12700 H processor and 16 GB of RAM Evo apply he sure is which is a spec I'm also surprised the score is not over 300 so comparing it to MSI, Dell and HP you pay more we don't get the higher results
Purchasing laptops with AMD Ryzen 7 6800 H or AMD gaming laptop is a big mistake, check the results, this comes with 16 GB of RAM DDR4 as you can see this photo is not impressive however the price is really high, you can buy better laptops with $2,000
On the other hand, the Asus on the right, because the store gives a discount for $300 and the score is low, overall I don't think the original cost of AMD Ryzen 7 and the results would be interesting for a digital marketer, comparing ASUS devices here, both are not good options.
Another laptop that we don't recommend purchasing for a person who wants to work most of the time with browsers, is Asus Rog zephyrus with $2,300 you get no speed for what this laptop comes in ryzen 9 6900 h with 16 GB of ddr5 RAM
all right so a big surprise for testing Mac laptops the first one is M processors on MacBook Air on the left as you can see the score is much higher than Intel laptops or a AMD laptops the highest scores belongs to end to MacBook Air with almost 400 comparing the cost is $1,500 this apple left has four core CPU and core CP 8 CPUs core CPU and 8 core GPU
the other MacBook on the right side is a MacBook Pro with M1 cheap as a surprise to everyone that score is lower to the MacBook Air with M2 Chip however the cost is much higher than the MacBook pro.
Working with Windows and intel device is much easier for me than working with MacBook and Safari as the web browser, as a personal experience and an expert digital marketer, one issue which is a big issue that I see with M1 and M2 chips are usually carsh on a non-responsive error message ( on Chrome)
So what it means, instead of being slow and not responding to a command on web browser the M chip on MacBook Pro results in the failure dead page
Force you to load the page again, so if you have content on the web browser that hasn't been saved and you're still working on it, there's a big chance on Mac you lose all your data however on a window device specially intel-based CPU you will see slow browser not responding but you don't lose your date.
As a personally I rather having a slower device than losing my all my data!